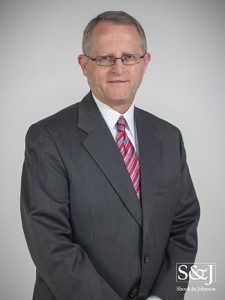 Jonathan E. Shook is a civil litigation lawyer who, since 1999, has focused his practice on representing individuals in matters pertaining to employment law and employee benefits.  Mr. Shook has successfully represented hundreds of employees who have been wronged by their employers, and he has done so in a wide variety of contexts, including sexual harassment, age discrimination, race discrimination, gender discrimination, and retaliatory discharge.
He has represented a wide variety of individuals who have been denied an employee benefit obtained through their employment, including short‑term disability benefits, long‑term disability benefits, severance plan benefits, and retirement or pension benefits.  Mr. Shook has represented individuals across the State of Oklahoma and in all three federal district courts in the State.
Mr. Shook is an AV® Preeminent rated lawyer by Martindale‑Hubbell, which indicates that his fellow lawyers rank him at the highest level of professional excellence. He has also been recognized as an Oklahoma Super Lawyer from 2008 through 2022 by Super Lawyers, which is a service of Thomson Reuters.
He was a chapter contributor to ABA book published in 2010 entitled Litigating the Workplace Harassment Case wherein he authored Chapter 12, "Responding to Summary Judgment: Plaintiff's Perspective."
Mr. Shook is proud to have become a licensed member of the Missouri bar in 2016, and he now actively assists individuals in St. Louis and across the State of Missouri in their ERISA‑governed claims for short and long term disability benefits.
Areas of Practice:
Employment Law – Representing Employees
Employee benefits law (ERISA) – Representing Individuals
Bar Admissions:
Oklahoma, 1997
Missouri, 2016
U.S. District for the Northern District of Oklahoma
U.S. District for the Western District of Oklahoma
U.S. District for the Eastern District of Oklahoma
U.S. District Court for the Eastern District of Missouri
United States Tenth Circuit Court of Appeals
Education:
University of Tulsa College of Law, Tulsa, Oklahoma, 1996, J.D. with honors
Virginia Tech, Blacksburg, Virginia, 1992, M.B.A.
University of Oklahoma, Norman, Oklahoma, 1987, B.A. Majors: Economics and Political Science
Professional Association and Memberships:
Oklahoma Bar Association
Tulsa County Bar Association
Missouri Bar
American Inns of Court
Reported Cases:
Schwob v. Standard Ins. Co., 37 Fed. Appx. 465 (10th Cir. 2002)
Horn v. Cendant Operations, Inc., 2003 WL 21513210 (10th Cir. 2003)
Transwestern Publishing, L.L.C. v. Langdon, 84 P.3d 804 (Okla. Ct. App. 2004)
Saffa v. Oklahoma Oncology, Inc., 405 F.Supp.2d 1280 (N.D. Okla. 2005)
Silver v. CPC‑Sherwood Manor, Inc., 151 P.3d 127 (Okla. 2006)
Holt v. Grand Lake Mental Health Ctr., 443 F.3d 762 (10th Cir. 2006)
Turgeau v. Administrative Review Bd., 446 F.3d 1052 (10th Cir. 2006)
Boyles v. AG Equipment Co., 506 F.Supp.2d 809 (N.D. Okla. 2007)
Schwob v. Standard Ins. Co., 248 Fed. Appx. 22 (10th Cir. 2007)
Grand Lake Marina, LTD v. Grand River Dam Authority, 177 P.3d 1104 (Okla. Ct. App. 2008)
Tinkler v. Level 3 Communications, LLC, 2008 WL 199901 (N.D. Okla. Jan. 22, 2008)
Galutza v. Hartford Life and Accident Ins. Co., 2010 WL 1329985 (N.D. Okla., March 30, 2010)
Duvall v. Georgia Pacific Consumer Products, LP, 607 F.3d 1255 (10th Cir. 2010)
Terry v. 7700 Enterprises, LLC, 2010 WL 5420151 (N.D. Okla., December 27, 2010)
Miller v. Nordam Group, Inc., 2013 WL 6080268 (N.D. Okla., November 19, 2013)
Simmons v. DNC Hospitality Mgmt. of Okla., LLC, 2015 U.S. LEXIS 94199 (E.D. Okla. 2015)
McMillan v. AT&T Umbrella Benefit Plan No. 1, 161 F.Supp.3d 1069 (N.D. Okla. 2016)
Byrd v. Wellpoint Flexible Benefit Plan, 2017 WL 1633204 (E.D. Mo. May 2, 2017)
Henson v. Amerigas Propane, Inc., 681 Fed. Appx. 697 (10th Cir. 2017)
McMillan v. AT&T Umbrella Benefit Plan No. 1, 2017 WL 3478482 (N.D. Okla. Aug. 14, 2017)
EEOC v. Horizontal Well Drillers, LLC, 2018 WL 3029108 (W.D. Okla. June 18, 2018)
Saldivar v. Aberdeen Dynamics, LLC, 284 F.Supp.3d 1241 (N.D. Okla. 2018)
McMillan v. AT&T Umbrella Benefit Plan No. 1, 2018 WL 3854023 (10th Cir. Aug. 13, 2018)
Ho v. Tulsa Spine & Specialty Hospital, L.L.C., 507 P.3d 673 (Okla. 2021)